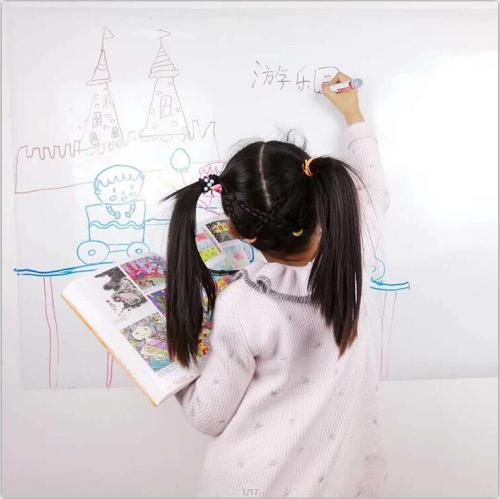 Large Removable Whiteboards For Bedroom Wall
Description
Dry Erase Removable Whiteboard Wallpaper
Item No. GRWT-NS50-FXCK Removable Adhesive Whiteboard is a kind of flexible whiteboard with adhesive, easy cut, bent, twisted, coiled, or can machined into almost any shape. Saving space and carry easily. The unique adhesive added removal for on-the-go mobility to the Self Adhesive Whiteboard. Not only will it not fall off easily, but will remain sticky after washing if the adhesive surface is dirty. As a whiteboard, it has excellent write-on and wipe-off durability. Compatible for many kinds pen,marks can be dry erased off within one month. As Magnetic Receptive Whiteboard Sheet made by mixing iron powder with plastic (CPE etc.). It has excellent magnetic receptive ability, attachable magnets.
Product Name

Removable

Adhesive Whiteboard

Item No.

GRWT-NS50-FXCK

Material

PET+ Steel Sheeting

Color

High Gloss White

Standard Size

20M×1200mm

Thickness

1mm

Certification

RHOS,SGS
Features
White high gloss whiteboard

sheeting.

Compatible for dry erased whiteboard marker,excellent erasable.

Working as sticker on smooth and clean surface, easy to apply to wall, traditional white board and so on.

Made of high quality reusable adhesive, the white board sticker can easy install and removal for on-the-go mobility, but won't fall off easily. If the adhesive surface is dirty, it will still be sticky after washing.


Without demagnetized, anti-rust.

Premium PET base, good weather resistance, excellent for durable indoor using, big size is available.
Rewritable
Rewritable Useful Time: 20000 times (tested with whiteboard writing testing machine under ambient temperature and humidity)

Erase Limitation: For normal whiteboard marker pen, marks can be dry erased off within one month. If the marks leave on a whiteboard for long enough and can`t be dry erased, please use Whiteboard Cleaner or some alcoholic liquid to get them off.